DIGITEN WTC200 Wireless Temperature Controller Thermostat Outlet Remote Control Thermometer with 2m/6ft NTC Temp Sensor Probe Heating Cooling Mode for Fan Heater Greenhouse Homebrewing Reptile
About this item
📡【Wireless Remotely Control】: Remotely set and control, portable design, which is more convenient and handy. Communication range is 50-100m in open area. It can save all settings even if the power failure.

🕹️【Easy to Use And Program】: Accurate reading temperature for LCD display with back light. Freely switch between ℃ and ℉.

💰【Save Money】: The thermostat will make your life not only comfortable but energy efficient. The thermostat turns on and off appliances connected to outlet based on the target temperature, thus saving money on your electric bill while maintaining comfort.

💯【High Accuracy And Safe】: Come with a highly accurate temperature sensor, ambient temperature is detected automatically by the sensor on the receiver socket. High and low temperature alarms are available, the maximum load can reach 15A, 1650W.

🎈【Widely Used】: Widely used for greenhouse,mushroom house, reptiles breeding, pet feeding, wine cellar, cigar storage, home brewing, seed germination, fermentation, baby room, attic fan, swamp cooler, evaporative cooler, space heater, wall panel heater, electric fireplace heater, garage, etc.

The wireless thermostat will automatically turn on/off heating or cooling devices through your preset target temperature. Control Cooling and Heating device, Monitor room temperature.
Specifications

Load Capacity: 100-240VAC 15A, 1650W@110VAC, 3300W@220VAC
Remote Batteries Required: 2×1.5V AAA (Not Included)
Transmission Distance: 50-100m
Measuring Temperature Range: -10℃~80℃, 14℉~176℉
Temperature Accuracy: ±0.1℃/℉
High/Low Temperature Alarm: 0℃~80℃/32℉~176℉
Remote Refresh Frequency: 20 Seconds
Temperature Probe: Plug In The Receiver
Note, Multiple sets of equipment will not interfere with each other. if you want one remote to work only one outlet, when pairing, please remove the batteries of other remotes and keep only one remote control is in active (power on) state.


Directly connect to cooling or heating device after setting.

Set Run>Stop, it will be in cooling mode.

Set Run<Stop, it will be in heating mode.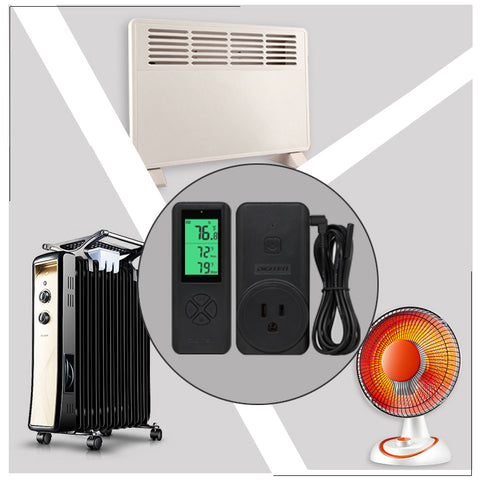 Temperature is detected by the receiver.

Can be monitored and contorlled in different rooms with 50-100m.
Temperature is detected by the receiver.

Can be monitored and contorlled in different rooms with 50-100m.

2m/6ft probe cable.

The NTC probe is waterproof.

Place the probe where the temperature needs to be detected.
The Low alarm and High alarm are not equal to the Run temperature and Stop temperature.

The High alarm and Low alarm are turned off by default.

To turn on the alarms, long press and hold the SET button, then press the DOWN/UP button to set the High/Low alarm velue you desire on the High/Low page.
Package include:
1x Receiver
1x Remote Controller
1x 2m/6ft NTC probe
1x User Manual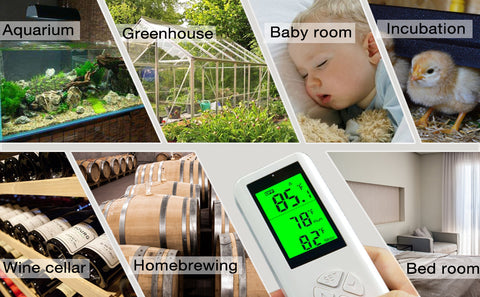 ---
We Also Recommend
Undelivered
As of today, I have still not yet received the DIGITEN WTC200 Wireless Temperature Controller Thermostat Outlet Remote Control Thermometer!!!
Works from 200 feet away - maybe more
Plugged the outlet into a 120V receptacle that was out at the well pump in the middle of the yard. Plugged in a spotlight fixture at the well pump to keep the water pipes from freezing. Keep the remote control in the coat closet at the house, about 200 feet away. Set temp to come on at 40 degrees F and off at 45 degrees F. Works just like it's supposed to.
Great
I have a rabbit that I keep in a separate room. This device lets me monitor the temperature outside that room as well as automatically turns on/off a space heater based on temperatures I set. I keep the room between 20 and 21 degree celsius. So far so good. I am very happy with the purchase. It keeps my rabbit warm during the winter months.
Simply it works
I have this in my greenhouse and when it falls below 39 degrees it turns on the heater to 42 degrees and so on . Just perfect so far.
Accurate and reliable
After several months in a humid greenhouse environment, this temp monitor is still going strong and able to trigger the heater to turn on and off. I am well pleased with this equipment!