DIGITEN Temperature Controller Digital Thermostat Reptiles Temp Controller Outlet Plug-in GreenhouseThermostat for Space Heater Germination Incubation Terrarium
🐊【Ideal Temperature Control】The temperature controller can regulate and maintain your preferred temperature within a control range from -40~248ºF. It comes with a sensor probe to reliably track the temperature.

🍻【Plug-and-Play】Easy to use 3 buttons to set up temperature between Fahrenheit/Celsius according to your using habit.

🌱【Convenient Design】Illuminated LED display is easy to read and program even in darkness. And you can hang the temperature controller on the wall or hooks to keep cords untangled and neat.

🐠【Safe and Reliable】The temperature controller supports high and low temperature alarm, which is very helpful for protecting the target from any influence that exceeds the temperature range. Customize temperature and compressor delay, protecting your refrigeration equipment.

🍄【Widely Use】: Greenhouse, mushroom house, reptiles breeding, pet feeding, aquariums, wine cellar, cigar storage, home brewing, seed germination, heating pad, fermentation, baby room, attic fan, swamp cooler, evaporative cooler, space heater, wall panel heater, electric fireplace heater, garage, etc.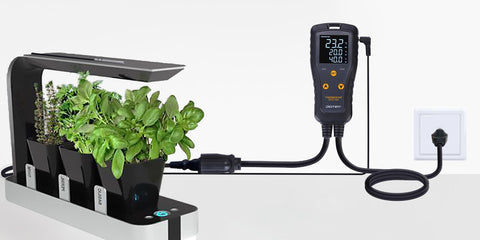 DIGITEN temperature controller is easy to use, safe and reliable.

Capable of controlling temperature dependent upon current settings and ambient conditions.

Display measurements in Centigrade or Fahrenheit.

Temperature correction function is available.

Compressor delay protection for refrigeration control, protect refrigeratinng compressor lifetime, avoid compressor to start frequently.

High and low temperature alarms are available.

The temperature controller has the function of over-temperature and sensor failure alarms.
Specification 
Input Power: Max. 10A/15A, 100-240VAC

Output Power: 1100W@110V, 2200W@220V(10A); 1650W@110V, 3300W@220V(15A)

Temperature Control Range: -40~120℃, -40~248℉

Temperature Control Mode: Heating or Cooling

Buzzer Alarm: High and Low Temperature Alarm

Controller Dimension: 137*65*28mm
Set Up
Set RV (Run Temperature Value)<SV (Stop Temperature Value), the temperature controller will be in heating mode.

Set RV (Run Temperature Value)>SV (Stop Temperature Value), the temperature controller will be in cooling mode.
Feature
Hanging Hole
It uses whole new pre-wired design without complicated DIY wiring and is accessible for connecting a cooling or heating device directly.

It supports hang from the eyelet tab, confirm the installation distances and nails/screws size before installing.
Waterproof Probe
Enjoy more installation flexibility with a 2m(6ft) waterproof probe cord.

The temperature sensor is made of silicon and can work for a long time under high temperature. It's suitable for water, sea water, weak acid or weak lye.

If ERR appears, please try to insert the probe firmly into the controller.
US 3 Prong Outlet
Standard reliable 3 prong ground outlet support max current of 15A.

Input Power Cable Length: 150cm/5ft

Output Power Cable Length: 18cm/7in
Multiple Purpose
Adjust the temperature of the cheese.

Keep the temperature constant.

Ensure the taste of the cheese.

A comfortable choice for reptiles incubating, like lizards, turtle, snake, spider and so on.

Temperature is an important condition for plant growth.

It is most beneficial to plant growth within a suitable temperature range.
---
We Also Recommend
Device was delivered with a broken display
I have received my temperature controller with a broken display, and it is unusable.
I would like to receive either a replacement or a full refund
Not as accurate as I'd had hoped
Using this to control a mini fridge. Wanting to keep temperature as close to 55 degress as possible. Turns on to cool exactly when programed but temperature falls 3-4 degress below desired low temp. Not much assistance!
Excellent
This is much better than I expected for the price. The temperature sensor is super sensitive and immediately changes when I touch it or move it to a new area. I like the display color and brightness, and programming was easy. I tested it and it works great. Very happy.
Works perfect
Turned my 2 always on inline hvac fan boosters into thermostat controlled for a lot cheaper than buying two controlled fan boosters!
Works great
I use this for controlling the hot side of my bearded dragon's 4x2x2 terrarium with an external cooling/ exhaust fan . It does a great job. Just set it and forget it