DIGITEN Temperature Controller Digital Thermostat Reptiles Temp Controller Outlet Plug-in GreenhouseThermostat for Space Heater Germination Incubation Terrarium
🐊【Ideal Temperature Control】The temperature controller can regulate and maintain your preferred temperature within a control range from -40~248ºF. It comes with a sensor probe to reliably track the temperature.

🍻【Plug-and-Play】Easy to use 3 buttons to set up temperature between Fahrenheit/Celsius according to your using habit.

🌱【Convenient Design】Illuminated LED display is easy to read and program even in darkness. And you can hang the temperature controller on the wall or hooks to keep cords untangled and neat.

🐠【Safe and Reliable】The temperature controller supports high and low temperature alarm, which is very helpful for protecting the target from any influence that exceeds the temperature range. Customize temperature and compressor delay, protecting your refrigeration equipment.

🍄【Widely Use】: Greenhouse, mushroom house, reptiles breeding, pet feeding, aquariums, wine cellar, cigar storage, home brewing, seed germination, heating pad, fermentation, baby room, attic fan, swamp cooler, evaporative cooler, space heater, wall panel heater, electric fireplace heater, garage, etc.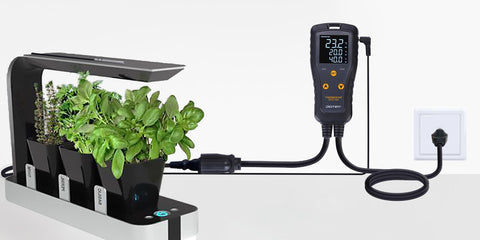 DIGITEN temperature controller is easy to use, safe and reliable.

Capable of controlling temperature dependent upon current settings and ambient conditions.

Display measurements in Centigrade or Fahrenheit.

Temperature correction function is available.

Compressor delay protection for refrigeration control, protect refrigeratinng compressor lifetime, avoid compressor to start frequently.

High and low temperature alarms are available.

The temperature controller has the function of over-temperature and sensor failure alarms.
Specification 
Input Power: Max. 15A, 100-240VAC

Output Power: 1650W@110V, 3300W@220V

Temperature Control Range: -40~120℃, -40~248℉

Temperature Control Mode: Heating or Cooling

Buzzer Alarm: High and Low Temperature Alarm

Controller Dimension: 137*65*28mm
Set Up
Set RV (Run Temperature Value)<SV (Stop Temperature Value), the temperature controller will be in heating mode.

Set RV (Run Temperature Value)>SV (Stop Temperature Value), the temperature controller will be in cooling mode.
Feature
Hanging Hole
It uses whole new pre-wired design without complicated DIY wiring and is accessible for connecting a cooling or heating device directly.

It supports hang from the eyelet tab, confirm the installation distances and nails/screws size before installing.
Waterproof Probe
Enjoy more installation flexibility with a 2m(6ft) waterproof probe cord.

The temperature sensor is made of silicon and can work for a long time under high temperature. It's suitable for water, sea water, weak acid or weak lye.

If ERR appears, please try to insert the probe firmly into the controller.
US 3 Prong Outlet
Standard reliable 3 prong ground outlet support max current of 15A.

Input Power Cable Length: 150cm/5ft

Output Power Cable Length: 18cm/7in
Multiple Purpose
Adjust the temperature of the cheese.

Keep the temperature constant.

Ensure the taste of the cheese.

A comfortable choice for reptiles incubating, like lizards, turtle, snake, spider and so on.

Temperature is an important condition for plant growth.

It is most beneficial to plant growth within a suitable temperature range.
冷房にも暖房にも使え、AC100Vを繋げられる
温室内の苗の冷房に、簡易なミスト&ファン装置を自作しました。キーになるのはミスト発生器、サーモスタット、ファン、電磁弁です。頭脳に相当するサーモスタットが使いやすいのに感動しました。使い始めてまだ1週間なので耐水性、耐久性は★★★としましたが、今のところ問題ありませんから全項目★★★★★で良いのかも。
 設定温度次第で冷房用・暖房用のどちらでも使用でき、設定温度と現在温度が常に表示されていますので、安心感があります。日本語の説明書が無いのが玉に瑕ではありますが、設定の手順は比較的わかりやすいと思います。
Turning on and off two 15A 1500 watt fans
I have a greenhouse that turns on at 63.5 degrees and stays on until it drops below that temperature.
I find the long probe very helpful in a greenhouse as I can measure the temperature temp of the sand on the floor for a more definitive look at the temp of the greenhouse.
EXCELLENT TEMPERATURE CONTROL!
My little office which is LOADED with heat producing electronics, and for this reason I installed a 5,000 BTU window unit. Most window units use a mechanical thermostat with a +/- 5 F adjustment control range. UNACCEPTABLE! THIS device powers the window unit with such accuracy, that the temperature swing is +/- 0.5 (ONE HALF DEGREE Fahrenheit!), regardless of the heat load. EXTREMELY GOOD PRODUCT AND VALUE. Setting it up is a bit tiresome, but it is WORTHWHILE
Digiten works great
I am happy with this device. I set it up and had it working in minutes. It was easy once I realized that the temperature setpoints determine if it is working in heating or cooling mode. The unit defaults to heating. The display stays on after programming and while running. I cannot believe the functionality for this price.
Product is great but may not work with some heaters.
The thermostat worked flawlessly, but if you have heaters with a power button, the heaters will not turn back on without re pushing the power button when the thermostat reaches the set on temp. The best way to see if your heater will work with this thermostat is to plug the heater in, turn it on with the power button, unplug the heater while it is running, and then plug it back in. If you have to push the power button again to get the heater to work it will not work with this thermostat.