DIGITEN Heat Mat Thermostat Waterproof Temperature Controller DTC315 Greenhouse Thermostat Aquarium Temperature Controller Plug in Thermostat for Seedlings 15A Reptiles Temperature Controller Outlet
🌿【Ideal Temperature Control】The temperature controller can regulate and maintain your preferred temperature within a control range from -40~248ºF (-40℃~120℃). It comes with a waterproof sensor probe to reliably track the temperature.

💦【IP65 Waterproof】The shell of the temperature controller adopts integrated waterproof technology, which can be used outdoors without fear of rain.

🐢【Convenient Design】Illuminated LED display is easy to read and program even in darkness. And you can hang the temperature controller on the wall or hooks to keep cords untangled and neat.

🍺【Safe and Reliable】The temperature controller supports high and low temperature alarm, which is very helpful for protecting the target from any influence that exceeds the temperature range. Customize temperature and compressor delay, protecting your refrigeration equipment. 12 months warranty.

🐠【Multiple Purpose】: The temperature controller can be widely used in greenhouse, mushroom house, reptiles breeding, pet feeding, aquariums, wine cellar, cigar storage, home brewing, seed germination, heating pad, fermentation, baby room, attic fan, swamp cooler, evaporative cooler, space heater, wall panel heater, electric fireplace heater, garage, etc.

DIGITEN DTC315 HEAT MAT THERMOSTAT OUTLET
DIGITEN waterproof temperature controller is used as over temperature protection or automatic temperature control system in various electric heating or cooling devices, which is the perfect solution to provide constant optimum temperature.
SPECIFICATION
| | |
| --- | --- |
| Temperature Control Range | -40℃~120℃/-40℉~248℉ |
| Temperature Accuracy | ±1℃/±1℉ |
| Input Power | 100-240VAC, 50/60Hz |
| | |
| --- | --- |
| Output Power | Max. 15A, 100-240VAC |
| Temperature Control Mode | Heating and Cooling |
| Buzzer Alarm | High and Low Temperature Alarm |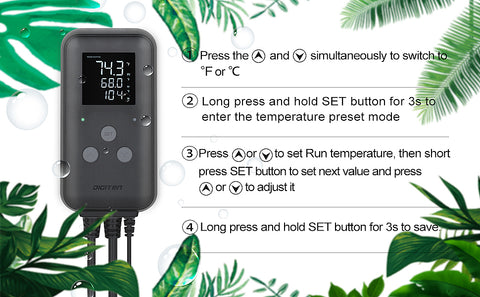 SET UP
Set RV (Run Temperature Value)<SV (Stop Temperature Value), the temperature controller will be in heating mode.
Set RV (Run Temperature Value)>SV (Stop Temperature Value), the temperature controller will be in cooling mode.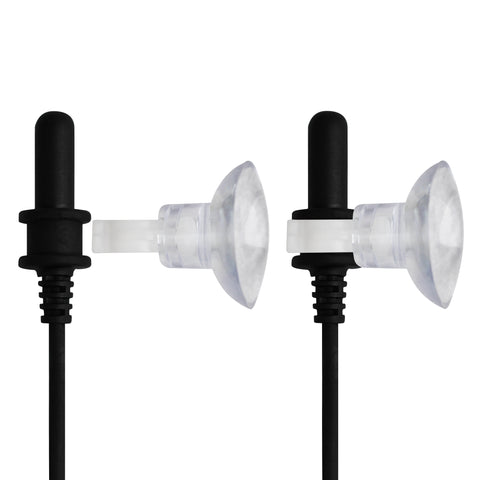 IP65 Waterproof
The waterproof grade is IP65. The shell of the temperature controller adopts integrated waterproof technology, which can be used outdoors without fear of rain.

Enjoy more installation flexibility with the 1.5m(5ft) waterproof probe cord. And it can be mounted to the desired area with the suction cup.

The temperature sensor can work for a long time under high temperature. It's suitable for water, sea water, weak acid or weak lye.

If ERR appears, please try to insert the probe firmly into the controller and check if it's over-temperature.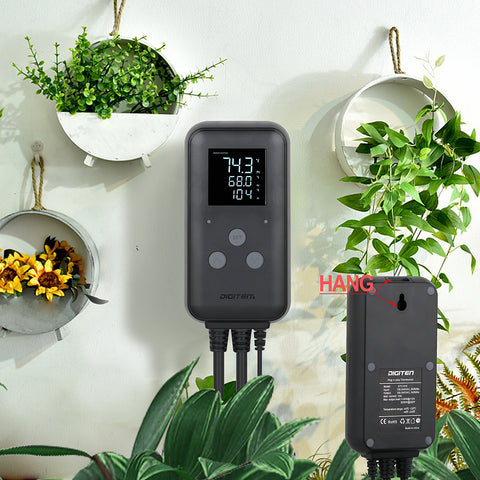 Hanging Hole Design
It uses whole new pre-wired design without complicated DIY wiring and is accessible for connecting a cooling or heating device directly.

It supports hang from the eyelet tab, confirm the installation distances and nails/screws size before installing.

In order to achieve a better waterproof effect, it is recommended to hang it up and use it.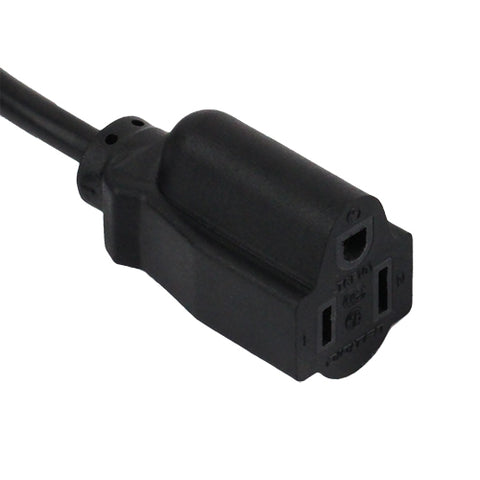 US 3 Prong Outlet
Standard reliable 3 prong ground outlet support max current of 15A.

Input Power Cable Length: 150cm/5ft

Output Power Cable Length: 18cm/7in
MULTIPLE PURPOSES
DIGITEN waterproof temperature controller allows you to program the temperature range of the rooting area of the plant to increase the survival rate of seedlings and cuttings.

DIGITEN waterproof thermostat can also be used with aquarium heaters. Simply put the sensor in the water and set it within the temperature range of the fish's natural habitat to provide a comfortable environment for them.

Maintain perfect temperature control in reptile terrariums and small pet enclosures. Place the temperature probe where the heat source will be aimed, and observe that your pet stays warm and happy.

When brewing and storing wine, use the DIGITEN temperature controller to control the appropriate temperature range to ensure the wine's mellow taste.
---
We Also Recommend
Impressive Temperature Controller
I am an aquatic enthusiast and was in need of a Temperature Controller for my show tank. Upon conducting research I decided on the DIGITEN Digital Temperature Controller DTC310. I am content that I chose this controller for the following reasons:
This product is highly effective in its function as a power regulator for fluctuating temperature (-40F to 248F) conditions. This controller can be utilized for various applications where the temperature needs to be regulated. The unit is integrated with waterproof technology (IP65) allowing it to be used outdoors. The LED display is a great feature allowing you to read the temperature at any time and furthermore, this feature can be turned off. It also has an integrated alarm with a High and Low temperature alert. The waterproof probe cord is flexible and durable for a length of six feet.
Since installing the DIGITEN Digital Temperature Controller DTC310 I have been able to greatly reduce the stress of worrying about the temperature of my aquarium getting too hot or too cold. This temperature controller gives tons of options, and is a great safety net for a faulty heater. Most heaters will fail at some point, and this will help save your fish. You can set a target value, and a heating or cooling differential/range that tells the controller when to kick on/off heating and cooling units. Since my use for this item involves live fish, there is no room for error, particularly for my 125 gallon show tank that houses very expensive fish. Accuracy of this controller is consistent and highly effective, as I monitor everything constantly, as, in addition, I use several temperature gauges that are separate from the controller, to use as reference for cross checking. I especially like (and need) that the read out is digital, always lit bright white for the aquarium temperature and Run Temperature / Stop Temperature. The interface is large and bright, in which is readable from across the room.
Set up really is quite easy with the features and functions from the detailed instructions, which are actually clear, concise, and easy to understand. It was basically a plug and play set-up. The comfort and benefits of having this controller has provided me with a great sense of security.
Overall, a solid product, and I recommend this investment for anyone even considering this product for an aquarium — it means you have already thrown a decent amount money into your tank, and this will help protect your investment.