DIGITEN Temperature Controller DTC102 Greenhouse Thermostat 2-Stage Plug-in Thermostat Reptiles Thermostat Outlet Homebrewing Thermostat Controller Digital Temperature Contrller for Seedlings
🌡️【Ideal Temperature Control】The temperature controller can regulate and maintain your preferred temperature within a control range from -40~248ºF. It comes with a sensor probe to reliably track the temperature.

💯【Safe and Reliable】The temperature controller supports high and low temperature alarm, which is very helpful for protecting the target from any influence that exceeds the temperature range. With 2 sockets output, one for heating and another one for cooling. Heating/Cooling differential function could be set separately for refrigeration and heating to protect temperature controller from violent change. Customize temperature and compressor delay, protecting your refrigeration equipment.

🧊【Plug-and-Play】Easy to use 3 buttons to set up temperature between Fahrenheit/Celsius according to your using habit.

💻【Convenient Design】Illuminated LED display is easy to read and program even in darkness. And you can hang the temperature controller on the wall or hooks to keep cords untangled and neat.

🍾【Wide applications】Widely used for greenhouse, mushroom house, incubation room, heating mat, growing pad, cultivation, planted tank heater, shrimp tank heater, home brewing, wine cellar, fermentation chamber, aquarium, pet breeding, incubation, reptile, chicken coop, aviary, rabbit hutch, brooder, baby room, nursey, livingroom, bedroom, attic, garage, BBQ, baking, mini ice machine, chest freezer, etc.

Large, lighted LCD screen, with an excellent application by virtue of no electromagnetic radiations, high display quality, digital interface and high reliability.

Support reading with Centigrade and Fahrenheit unit.

With a temperature correction function.

Compressor delay protection for refrigeration control

High and low temperature alarms are available.

Over-temperature and sensor fault alarm.

Heating/Cooling differential could be set separately for refrigeration and heating to protect temperature controller from violent change.
Specification
Temperature Control Range : -40~120℃,-40~248℉

Input Power : 100~240VAC, 50/60Hz

Temperature Control Output : Max.10A,100-240VAC

Input Power Cable Length : 120 cm/4ft

Output Power Cable Length : 30cm/6.5"

Sensor Length : 2m,6ft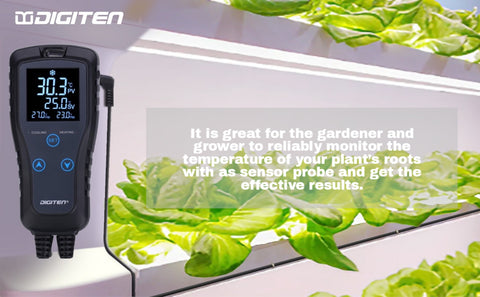 How to define SV (Set Temperature) value?
If you want your device to work within 30℉~36℉
SV (Set Temperature) = (36℉-30℉)/2+30℉=33℉, that means you could set SV value is 33℉
So CD (Cooling Differential) =36℉-33℉=3℉, HD (Heating Differential) =33℉-30℉=3℉.
That is an energy-saving mode about setting SV value. You could also adjust the SV value as per your needs.
The controller will control your device within the range you set.
Feature
Plug and play design.

Dual relay output, allow control heating and refrigeration equipment at the same time.

Max output load: 1200W@110V, 2000W@220V

Max current: 10A

Handheld device, small size, ergonomic appearance, easy to operate.

The shell is made of fireproof ABS material.

Hang the controller however you want from the eyelet tab. It can hang flush with the wall or from a variety of hook sizes.

The temperature sensor is made of silicon and can work for a long time under high temperature.

The waterproof sensor is suitable for water, sea water, weak acid or weak lye.

If ERR appears, please try to insert the probe firmly into the controller.
Multiple Purpose
Control the cooling device or heating device.

Make your family live comfortably.

A comfortable environment for your pet fish.

Keep the temperature constant.

Temperature is an important condition for plant growth.

It is most beneficial to plant growth within a suitable temperature range.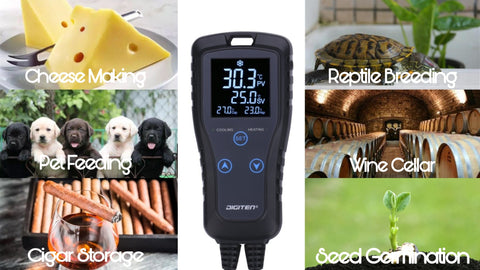 ---
We Also Recommend
No answer, no support
No reply on any e-mail, defect but no support
Great choice
Purchased and installed on dough proofing box. Excellent purchase and flawless operation. Highly recommend.
Simple to set up, and it works
Got this for a temporary greenhouse on our deck. We've had several freezing nights, and everything is working fine so far (~one month). The set-up looked complex, but it was really about simply setting a target temperature; everything else was kinda not so important. I gave 4 stars for Temperature Control and Accuracy, but they could be 5 stars too, I don't know yet. Anyway, for a decent price, I get heating in my greenhouse only when I need it.
燻製に使える
日本語説明があります。
自家燻製の作業がすごく楽になりました。
Works well for how it's programmed.
Using this to run a ventilation fan under the cover of a boat, and a heater in the engine compartment.
I have yet to do anything but test the heater, as I have it set to come on at 5 degrees F. The cooling fan is currently on all the time, which is why I give this 4 stars.
You set the temp, and a buffer range for above and below. When the temp is above the upper buffer, the cooling outlet comes on until the temp reaches the set temp. When the temp gets below the lower buffer, the heater outlet comes on until the temp reaches the set temp.
Id like to separate these ... Set the cooling to come on if the temp reaches 120 and cool until it reaches 90, then heat on at 50 and off at 65, like one might have in a greenhouse. As is, I'd need two of these or I'd need to set it to cool from 120 to 70 and set to heat from 50 to 70. 70 being the main target temp.