DIGITEN Temperature and Humidity Controller DHTC-1011 Pre-Wired Dual Stage Outlet Digital Thermostat Humidistat for Reptile Terrarium Mushroom Greenhouse Home Brew Fermentation
🍄【Wide Control Range】Temperature and humidity 2 in 1 sensor; temperature control range is -40℉~248℉, humidity control range is 1%RH~100%RH. It starts cooling or heating, humidifying or dehumidifying according to configured parameters, which helps to keep a desired temperature and humidity anytime.

🌱【Convenient Design】The temperature and humidity controller has a large LCD screen with simple 3-button, and pre-wired design making it easier for use with plug and play.

🍾【Dual Relay Output】Be able to control temperature and humidity equipments at the same time, one is for temperature controlling and another is for humidity controlling.

🧀【Multi-functional Setting】Supporting calibration, compressor delay and saving reset setting values. Centigrade or Fahrenheit degree display, easy to set. High or low temperature and humdity alarms are available. And with temperature calibration and compressor delay for protecting cooling device. It can save the original setting values in case accidentally power-off.

🦎【Multiple Use】Widely used for home brewing (refrigerator), fermentation, greenhouse, terrarium, reptile, planting (mushroom), meat storage and cooking, ventilator fan, crawl space, turtle enclosure, curing chamber, snake cage, tobacco cage, etc.
DHTC1011 is an integrated plug-and-play temperature and humidity controller. It has a temperature and humidity integrated probe and is pre-connected to two outlets to control temperature and humidity simultaneously. The large LCD screen can display measured temperature/humidity and set temperture/humidity at the same time.
Specification
Temperature Control Range: -40~120℃/ -40~248℉
Humidity Control Range: 1-100%RH
Temperature Accuracy: ±0.3℃/±0.3℉
Humidity Accuracy: ±2%RH
Temperature Relay Contact Capacity: 15A, 100-240VAC
Humidity Relay Contact Capacity: 10A,100-240VAC
Sensor Length: 2m/6ft
Input Power Cable Length: 120cm/4ft
Output Power Cable Length: 15cm/6"
Feature

It uses whole new pre-wired design without complicated DIY wiring and is accessible for connecting a cooling or heating device directly.

It supports hang from the eyelet tab, confirm the installation distances and nails/screws size before installing.

Enjoy more installation flexibility with a 2m(6 ft) waterproof probe cord.

Please be careful not to place the probe in an environment with 100% humidity.

If ERR appears, please try to insert the probe firmly into the controller.

Be able to connect with refrigeration/ heating and humidifier/dehumidifier equipment at the same time.

The controller will start heating/cooling or dehumidification/humidification according to the preset parameters.

When the temperature or humidity reaches the HI or LO you set, an alarm will be issued.

If ERR appears, please try to insert the probe firmly into the controller.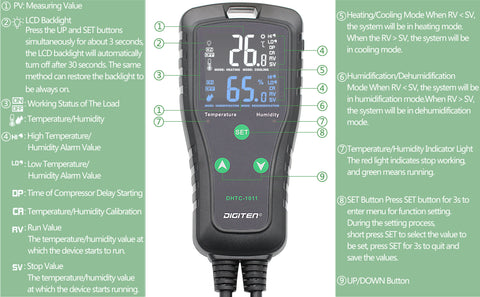 Multiple Purpose
It can be used as over temperature protection and automatic temperature and humidity control system for various electric appliances such as equipment for home-brew, pet breeding, incubation, room temperature and humidity control, culture and fermentation equipment, wine cellar temperature and humidity monitoring equipment, etc.
a. A comfortable choice to make an warm and comfortable growth environment for reptiles incubating, like lizards, turtle, snake, spider and so on.
b. It's ideal to control the temperature and humidity for indoor planting, grow tent, etc.
c. It is perfect for your set up to keep wine or kombuchat at a perfect temperature.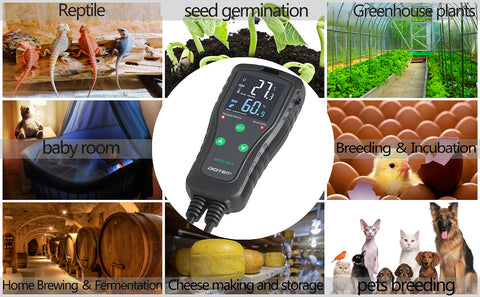 ---
We Also Recommend
insufficient instructions
#1- I had to get 200 power glasses to read your micro print instruction . "Tutorials on Youtube are completely time wasters.
Do you have some sort of tutorials for folks who are not tech savvy.
Temp and Humid Controller model DHTC-1011
Thanks
Love this
Got this for my tortoise table. Love it, it works great. Had my daughter program it lol. No more watching temp and humidity levels this does that for me.
Exactly what I needed for my greenhouse
Works great!
My DIGITEN DHTC-1011 works great. I use it to control a cheese aging cave. It has a lot of options which makes is hard to program. The instructions are confusing, but manageable. I highly recommend it.
Does the job right
Good product for your grow tent