DIGITEN Fish Tank Thermometer Digital Aquarium Thermometer with Large LCD Display Stick On Terrarium Coral Tanks Temperature Sensor Gauge for Reptiles Turtle Lizard Amphibians
🌿【Cordless and Simple Design】No probes and messy wires in the water. The aquarium thermometer with the backside temperature sensor sticks on the outside of the fish tank to prevent water penetration and electronic oxidation.

🐢【Large Transparent LCD Screen】Comes with a large 3.3" LCD screen that is easy to read clearly and accurately from a distance. The transparent screen of the aquarium thermometer will not block the view to observe the terrarium. 4 colors are available.

🐟【High Accuracy】The aquarium thermometer with a backside accurate temperature sensor will display the current temperature, accurate to ±1℃/±2℉.

🦎【Easy to Use】After installing the battery, stick the aquarium thermometer on the outside of the terrarium, below the water level, and read the temperature. Long press the UP or DOWN to switch ℃/℉.

🐠【Widely Used】Suitable for different types of water such as freshwater, saltwater, tap water, sea water, etc. It can not only monitor the living temperature of lizards, turtles and other reptiles, but also be used for brewing beer and wine glass barrels, reef tank, coral tank, show tank, planted tank, terrarium and other pets tanks.

DIGITEN digital aquarium thermometer is designed for monitoring and checking the inside temperature of fish tanks and terrarium. With a large LCD transparent display a compact design, it can help to make your pets live in a comfortable environment.SPECIFICATION
Setting Range: -10℃~+60℃ (14℉~+140℉)
Measurement Range: -10℃~+60℃ (14℉~+140℉)
Accuracy: ±1℃,±2℉
Refresh Rate: 30s/time
Transparent Clear Screen wiht Large Number
Comes with a large transparent 3.3" LCD screen that is easy to read clearly and accurately from a distance, and won't block the view to observe the tank. It's also a special decoration for your tank.
Waterproof Front Panel
The front panel is a PVC integrated surface shell, which is waterproof. And it can be wiped with a wet cloth.
Backside Cordless Temperature Sensor
The backside temperature sensor accurately monitors the water temperature in real time. It's simple in appearance without messy wires.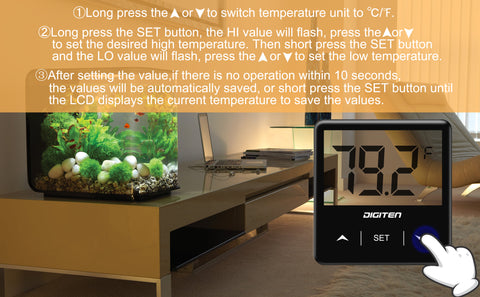 Fairly accurate for an outside-mounted thermometer
Beautiful, see-through view with large, easy to read numbers.
Accuracy is fairly good...possibly about 1.5-2 degrees F off, as it is mounted on the glass on the outside and reads off of that. Compared the reading to a meat thermometer and an IR thermometer, which seemed to agree on temp moreso than this.
But my tank doesn't need to be extremely fine-tuned, and this serves a nice, simple purpose at a good price. Easy to suggest.
Easy to read the temperature and it reads the right temperature.
Like that it reads the right temperature and it's easy to read. I also like that it looks like it came with my tank and you can see the fish through it
Happy
I really like this thermometer. It's unobtrusive yet easy to read. Love the fact there are no cords or probe hanging in my tank. I would definitely buy again.
Simple. Accurate. Great purchase!
Best thermometer I've ever used. Can't beat the simplicity! Tested it against a mercury thermometer and it's accurate too.
Nice product
This is a nice looking thermometer that sticks to the outside of the tank. The LCD is transparent so it's best if you put it in front of a bright area of the tank to make LCD easier to see.