DIGITEN DHC101 Digital Humidity Controller Pre-Wired Humidistat Outlet Humidifier Dehumidifier for Mushroom Greenhouse Reptile Fermentation Homebrewing
🌱【Ideal Humidity Control】The humidity controller can regulate and maintain your preferred humidity within a control range from 5%~99%RH. It comes with a sensor probe to reliably track the humidity.

🍻【Safe and Reliable】The humidity controller supports high and low humidity alarm, which is very helpful for protecting the target from any influence that exceeds the humidity range. Customize humidity range and compressor delay, protecting your devices. The controller can automatically save the data or setting even it suddenly goes out of power.

🐸【Plug-and-Play】Easy to use 3 buttons to set up humidity range for humidification and dehumidification modes according to your needs.

🍄【Convenient Design】Illuminated LED display is easy to read and program even in darkness. And you can hang the humidity controller on the wall or hooks to keep cords untangled and neat.

🦎【Application】Widely used with mushroom, mini greenhouse, ventilator fan, crawl space, turtle enclosure, curing chamber, seed germination, cigar storage, homebrewing, etc.

Display the sensed humidity, setting humidity, and custom icons on the display indicate working mode on the large LCD screen.

Easy to use, only 2 steps setting for your application, plug-and-play design. Control humidity by setting values.

Alarm when sensor error or humidity exceeds limits; Alarm when humidity exceeds high/low humidity setting value.

It's widely used for Green house, Mushrooms, Seed germination, Home brewing, Ventilator fan, Clothes dryers, Bedroom and air-conditioned room, Fresh storage, Food manufacturing, Laboratory, Reptils, etc.
Feature
It uses whole new pre-wired design without complicated DIY wiring and is accessible for connecting a dehumidifying/humidifying device directly.

It supports hang from the eyelet tab, confirm the installation distances and nails/screws size before installing.

Enjoy more installation flexibility with a 2m(6ft) waterproof probe cord.

Please be careful not to place the probe in an environment with 100% humidity.

If ERR appears, please try to insert the probe firmly into the controller.

Standard reliable 3 prong ground outlet support max current of 10A.

Input Power Cable Length: 150cm/5ft

Output Power Cable Length: 18cm/7in
Multiple Purpose
It's widely used for Green house, Mushrooms, Seed germination, Home brewing, Ventilator fan, Clothes dryers, Bedroom and air-conditioned room, Fresh storage, Food manufacturing, Laboratory, Reptils, etc.
A comfortable choice for reptiles incubating, like lizards, turtle, snake, spider and so on.

It's ideal to control the humidity in a huge room with multiple humidity 

 controllers.

To control a high humidity environment when everything starts to grow up.

It helps to harvest yummy food and keeps you peace in mind.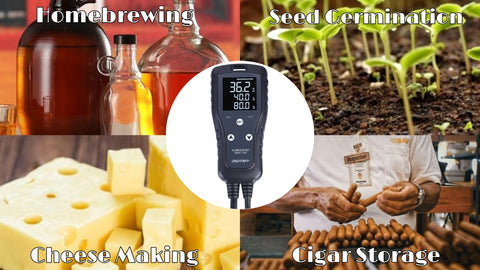 ---
We Also Recommend
Easy to set up and use for my Ikea Greenhouse and Reptile Fogger
I used this for my Ikea Greenhouse build. I connected it to my smart power strip, which is set to always on, and then connected it to my reptile fogger, which pumps humidity into the cabinet. I set this humidistat to run at 60% and shut off at 89%, and it has worked well in the month I've used it. I like the size and the opening at the top that makes it easy to hang. I velcro'd mine to the back of my cabinet (outside), not sure if that's a good idea or not. There is an audible click when it goes on and off. What else... I like that the sensor unit is small and flat. It is unobtrusive and the cable fits in the space between the glass panels and the frame of the Rudsta tall. I previously bought another, cheaper humidistat and had to return it because it had the totally wrong plug in for power out. This one has been great and it helped make my silly greenhouse vision a reality! lol
Better than Inkbird
I've been using humidity controllers for several years for growing gourmet mushrooms. The Inkbird has been the best until I found this one. The programming is simpler, the humidity sensor is replaceable, and the accuracy of the humidity sensor is superior. I believe this is currently the best choice for an accurate humidity controller within this price range.
購入直後のレビュー
庭に設置したビニールハウスの加湿用に購入。
国産では除湿用(~%を超えたら通電)には安価なものも見受けられるが、加湿用(~%未満で通電)は高価なものが多く、気軽に試すことは難しいと思います。
アマゾンで探すと、結構たくさん中華製がでてるので、次の条件をもとに選んで購入しました。
1.加湿・除湿 両方のモード切替ができること。
2.加湿・除湿機器を直接接続できること(最低1,000W程度)。
3.外部プローブが使えて、キャリブレーション(補正)できること。
その結果、この製品になりました。
製品の造りはしっかりしており、タッチも良好。設定は簡単で、すぐに使えました。
あとは耐久性がどれだけあるかかな・・・第一印象からすると、たぶん大丈夫だろうと思います。
減点にはしませんが、表示を消さないモードも用意してもらえると最高かな?
更にいうと、同社の温度コントローラーには暖房冷却2ステージアウトレットを備えたものがあるので、これも同様に除湿・加湿の2ステージアウトレットを備えてくれたら最高ですね。
Read the manual.
This item is very accurate and and has performed perfectly. It was a bit complicated to set up because it has more defined parameters than basic models. But after going through all the functions, it has been flawless. It is so sensitive and quick. I have it set to turn on at 55% and off at 47%. It was 54% in the room so I blew my breath at the sensor from a foot away and it immediately responded, turned on my make-shift dehumidifier, then recovered nicely. No longer waiting a minute or two for a response like others. This is awesome!
Really nice for the price
This device was everything I was looking for!